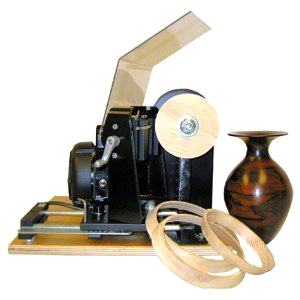 The Ring Master Bowl Lathe has been the secret of segmented bowl makers for over 30 years.  The patented dual cutting tool cuts rings from flat boards.  The rings can be stacked to make a variety of shapes including bowls, vases, straight sided canisters and more.  Only with the Ring Master can you cut concentric rings from any wood up to 12″ wide and 1″ thick.  Then simply stack, glue, sand and finish to produce a variety of cylindrical projects.
Make beautiful bowls, vases, picture frames, bracelets; anything that is hollow and cylindrical in shape.  With the Ring Master you will have hours of fun and will create beautiful works of art.
Use domestic and exotic wood along with materials such as Lucite and Corian to produce bowls, vases and other projects all from a piece of material that might otherwise be scrapped.  Made in Wilmington, North Carolina of quality aluminum and steel, the Ring Master is built to last a lifetime.  You will be amazed at the products you can produce with this tool.  Projects can be completed in less than an hour and plenty of accessories are available to help you with your project.